WinSignals = Stock signals with
success rate of 75-90% !!!
Do not even think
about trying it without us!
Our team of analysts watches market every day for you. In the moment of identification of profit opportunity, a message via mobile app will be sent. This message will contain parameters for entering a trade. The amount on your account can be increased by 2, 4, 5 and more % monthly and because of that you will have 90 % more time during the year. You will not have to watch charts every day!
We do the work while you enjoy your free time!
Our mission is to make life easier for traders, save their money and time, look for profitable situations and send them correct information in a comfortable way! Try our platform and you will not leave us! We keep an eye on stock prices instead of you!
World premiere & we are the first!
TOP mobile app for receiving and administration of trading signals!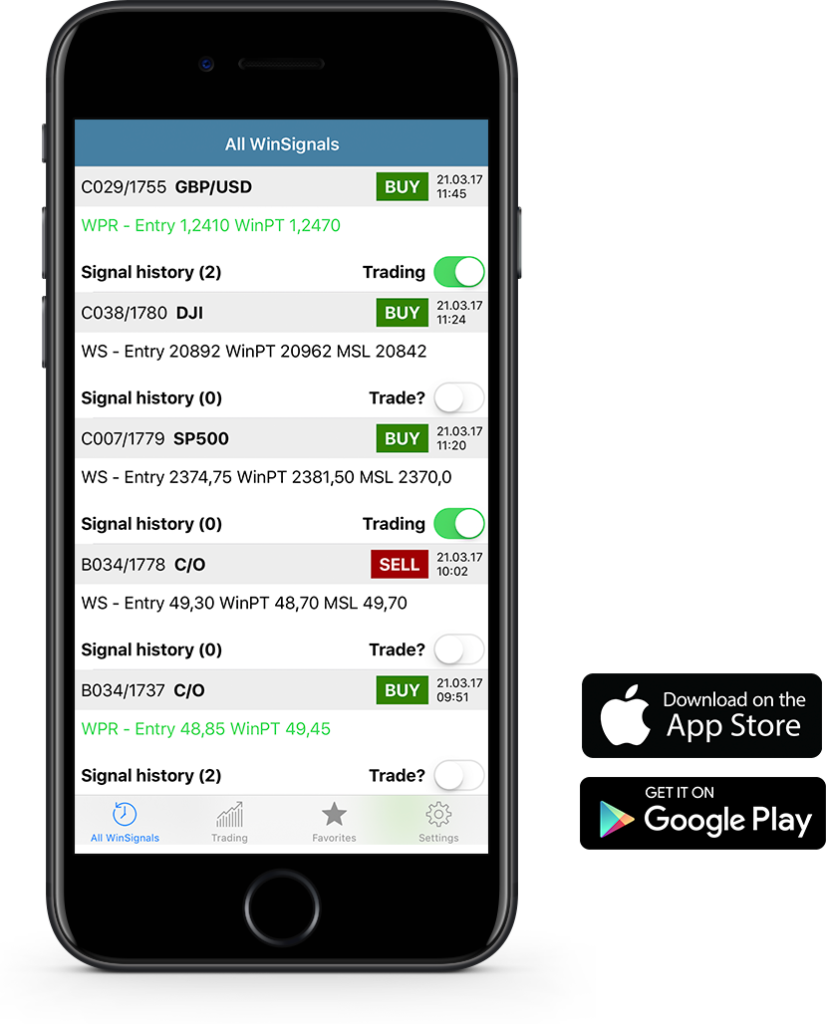 WinSignals turn the speculations on the stock market into an easy game!
The most successful live trading signals for on-line trading with stock indices, Forex and main commodities are being shared worldwide with success rate of 75 to 90%.
The signals are generated by people, members of our trading team! We do not use robots or automated systems! It is a manual handmade work of our traders based on our analytical process.
After registration, you will get 4 weeks lasting START version for low price!

You will have the unique opportunity to test our WinSignals information service for your profitable trading!

Save time and money in the simplest way!
4 clear facts about why WinSignals:
Honest and transparent results
We publish statistics of our results and profit performance of Winsignals every month.
Trading with real capital

We do not produce and show fake results in USD, EUR or PIPS to our clients. WinSignals platform is not a robot, it is a prediction of living experienced traders.
We have more than 15 years of active trading experience
The best part of our know-how is given to you – WinSignals with long-term success rate from 80 to 90% and more.  
We do not require any input capital!
We are not a broker company, we do not require financial contribution. WinSignals can be used in any online trading system.
Our trading results in numbers since 2016:
Total amount of WinSignals sent
since January 2016 till October 2023
Average monthly valorization
of traded account
WinSignals reached profit
Target until 15 days
What do you need to know about the WinSignals information service?
Find out everything you need simply and for free:
Are you new on the stock market?
Do not lose time and money!
Are you advanced or
experienced online trader?
We have got great tips for you:
What exactly will you get?
Alerts on potentially profitable situation on stock market
You will get only selected WinSignals with the highest reliability rating.
More free time for you
Time is the most valuable asset. With WinSignals you won't need to sit in front of PC display all day long.
We will do it instead of you.
WinEasy management
We will keep you informed about potentially profitable stock market situations.
We are going to do it for you.
Our signals are honest and transparent!
Here we publish signals sent to our clients via mobile app or SMS message. Look at real signals of our best traders in current month. We continuously monitor success rates of our TOP traders with best results. The signals are being sent to clients only from signalmen with rating A or B.
The signals are being sent in real time. Here you can see their history and in the section Results is their success rate. We watch success rate in predictions and in the potential of valuation!
You can go through and check our signals! We do not hide anything! We play an honest game and use our signals in our trading as well!
HERE ARE OUR LAST SENT SIGNALS!
Compare them with real situation on the market and count their profit potential and saved time!
Watch on-line current quotes of the most liquid assets that you can trade with WinSignals. Compare them with the prices on the platform of your broker.
NOTICE: The signals are published here with a 24-hour time delay.
Therefore we consider it inappropriate to apply them in a different market situation!
Order of current WS can be made HERE
Chosen assets for WinSignals:
In this 90 seconds video you will get to know the most important information about WinSignals. If you do not know anything about this product and you are interested in its brief description, simply start HERE!
References of our clients
What did our clients say about WinSignals...
By using WinSignals you will have the time and freedom during your trading. You do not have to spend hours watching charts and you will be able to use experiences of professionals in the simple way.
We are the only independent publishers of on-line signals on our market with success rate of 80 to 90%. Do not even think about trying it on the stock without us!