Stock Exchange and WinSignals
FAQ for trading beginners
Guide for new traders, how to use WinSignals stock predictions with success rate of 80-90%.
How to correctly understand project and opportunity  named "WinSignals"?
This manual is intended for those who see their opportunity in online trading on stock exchange, but they are still unsure whether they can handle this activity and whether it is appropriate for their mentality, nerves and the amount of free funds that can be put into trading, without jeopardizing their financial stability and standard of living.
The stock exchange is a place where financial assets are traded. Daily a dozens of billions of dollars, EUR and other currencies in stocks or commodities go through stock market. Sometimes we talk about so-called "stock trading". In fact, we do not really trade on the stock market. At least not as we are used to. We do not enter a property relationship with assets that are "traded". Primarily, the world's stock exchanges are designed to exchange values, especially stocks and various physical and financial commodities. Some of the world's most famous stock exchanges are Tokyo, Frankfurt, London or New York NYSE, the world's largest stock market. Nevertheless, today more than 98% of all entities carry out their financial transactions for speculation and earnings without long-term interest in owning the stock or commodity . This is the way both institutions and individuals move.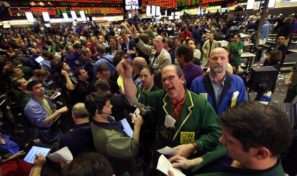 With the exception of classic stock exchanges, almost all financial assets - commodity futures, CFDs, options, forex and many others - are "being traded" electronically with a financial leverage, and the relationship to the underlying asset is only secured by the so-called margins, which functions only as a cash advance. This is mainly due to the fact that the various commodity, option and forex exchanges operate on a derivative basis primarily for the purpose of so-called price securing, mainly financial engineering products, and today financial derivatives are commodities to work with money. Depending on the nature of the financial derivative, sales techniques and complexity of financial operations are developed.
Probably most of you will know Online Stock Exchange  under the name trading. Stock exchange evokes buying or selling something on the stock market. Technically, this is the case. However, there are significant deviations from traditional stock exchange. We do not buy or sell anything in the physical market. We only enter business events, we open positions on the stock market in a direction that we consider to be advantageous.
There are only two possible directions. Prices can only grow or fall. When we decide to leave our buying or selling position (either because we have earned enough or we do not like the current loss), we will simply end the position. That is all.
The price movement of selected assets is continuously monitored by our analysts team and keeps you in the right position to open a trade for you. Shortly they identify potential profit opportunities. Our team of traders with more than 10 years of experience has developed a system that helps us achieve success rate of 80-90 % in the short-term prediction of financial market developments. This system is now also available to you in the form of WinSignals. WinSignals are stock price signals for short-term price movements of selected assets with a long-term success rate of 80-90% that you can use to manage your stock market investments. Because it is clear that our clients' goal is not only finances, but also achieving freedom of time and they can not sit online all day in front of their screens, we send WinSignals and Win Profit Report (information on the current Profit Target achievement) through a new mobile application for systems Android and iOS. This paid service altogether with the other services we offer here is the simplest yet very effective and profitable form for your business on the stock market.
Is WinSignals a probability enterprise?  What probabilities can I count on, when receiving signals?
WinSignals are information and opinions with a certain likelihood of success, and it is up to the client to decide, how they will make use of them in a given situation. The main purpose of WinSignals is to point out forming opportunities. Receiving WinSignals allows the client not to waste time by sitting at a computer the whole day long. Nevertheless, after receiving a signal for the market – WS – clients should make sure that the signal corresponds to their perception of the market as well as their perception of the risks involved in a possible trade. The WinTraders (our signalists) carry out situational market analyses and create movement predictions at times of the highest liquidity on the markets. In our European conditions this usually means between 8 AM and 7 PM, CET. This allows clients in our time zone, without any difficulty, to manage most of their online trades during the day.
WinSignals is not an investment recommendation, advice or a guide on how to trade on the stock market, or how to manage your money or investments. It is simply information with WIN parameters, statistic success rates and a prediction direction definition, taking into account asset price growth and drops, and determining the Profit Target levels according to how they are perceived by the author of the prediction, the signal, based on their own experience and anticipation. The WinSignals team does not assume any responsibility for the recommendations of individual signalists, for the actual results of users and business signal/prediction recipients.
For what type of trader, account and personality does WinSignals work well, and for whom is it not suited? 
Do I need to think, when using WinSignals, or can I get rich without effort and knowledge?
WinSignals 4.0 are a version of stock-market signals, rigorously based in the Situational Analysis Online method (SAO). This method evaluates markets from the perspective of trends, taking advantage of synergies and correlations between the individual monitored activities. It focuses on short-term fluctuations of selected assets, with a long-term success rate of 80-90 %, which more experienced traders can use for managing their stock market investments. It is up to the user, how they decide to use these messages. 
 The optimal preparation for the use of WinSignals, we consider to be the application of Situational Analysis Online principles (OSA), which we teach in in the Having Fun at the VIP Trader Stock Market course. This is the best preparation for using the WinSignals service safely and profitably.
A good option for the successful use of the WinSignals received, we think, is the approach of the more experienced online traders who have access to their own market analysis systems, issuing trading instructions for entering and exiting the market from a personal computer or a notebook at the moment when they understand the received WinSignal and when they agree with it. If the client opens and manages positions according to information from WinSignals, it is possible to work with fixed PT (Profit Target) limits and with mental limits for SL (stop-loss) – all depends on the experience and the means of the client, which differ individually. In this second case, and taking into account an appropriate burden on the trading account, we consider working with mental SL levels to be statistically more advantageous. This, however, requires experience, and the right risk management in action. WinSignals are merely price level movement predictions of selected assets. The subsequent development and trading operations are exclusively within the competence of clients and WS users...
What size of account should I have,
for WinSignals to pay off?
Account size influences a lot of online trading factors, in particular determining the size of positions being opened and money management. The size of a position being opened, in lots (minilots, microlots), is in fact the only thing that you can actually influence in a given trade. Everything else lies in the hands of the stock market and depends on your experience. Expert literature recommends opening trades of sizes between 1-2 % of the size of your stock market account. A simple financial calculation can lead us to the conclusion that for an account size of $ 2,000-2,500 and with the correct Money Management, WinSignals mostly performs a didactic role, allowing you to compare your trades and their results with the trades and results of professional traders. You can also improve your insight into markets.

For profitable trading, at the level of tens to hundreds of $ monthly, an appropriate account size is $ 5,000-10,000, allowing for 1-lot-sized trades to be opened (in a MT4 minilot), and thus a good gain in the value of the investment made can be expected.
In order for your stock market trading to be considered your full-time job, you will need a much larger account and input capital. To gradually reach such values, you can use the help of our WinSignals.
What typ of trader are you? 
Are WinSignals suitable for your typology?
Have you been trading for a longer time on a live account?

Are your results more or less balanced, without significant gains or losses?

Are you able to carry out a market analysis and a Situational Online Analysis?

Are you able to identify Support and Resistance areas?

Are you familiar with the basic terms and patterns within Price Action?

Are you perfectly in control of your platform?

Do you have your own business plan which appears to be profitable in the mid term?
If over 50 % of your answers to these questions is "NO", you shouldn't buy WinSignals just yet, and you should continue with your stock market education.