For smartphones with Android or iOS.
How it works and why do we need it?
Imagine you are somewhere in the world. Or quietly at work or in the living room. Sometimes a WinSignals notification will ring on your mobile phone. Whether it is a new profitable situation or profit report, our Win Profit Report, which we all love the most and comes to us in 75-90% of all the signals we have given.  After opening a trade according to the signal, we recommend that you only occasionally look at the open positions, watch the few that run against you and decide what to do next. Sometimes a small loss needs to come. You do not even have to accept it and simply try to come up with a solution of this open position.
The fact is that the continuous sum of winnings and losses with WinSignals is positive in 80-90% of the time! Learn how to work with this fact! Learn to gain profits and do not panic with temporary losses. Signals determine trends but occasional volatility disturbs and distorts the potential of possible earnings. It is up to you what you are going to do with these positions. Whether you close them immediately through mobile platform, or you look at the graphs at first and then make a decision according to your personal judgment and experience.
In any case, we know that WPR notifications - Win Profit Report are slightly addictive. You will discover opportunities, real money energy, sometimes even light adrenaline in our information service. Anyway, you will have additional time and you will not need to sit in front of monitor screen all day long. You will discover that WinSignals mobile app is brilliant. You will get your time back, your trading will be much more calm and everything else is up to you!
We work and you enjoy yourself - mostly time and comfort in trading. Our mission is to simplify traders' lives and work on the stock market, save time and money, look for profitable situations and send out the right information in a comfortable way! Try working with us and you will not leave us! We keep watching stock prices instead of you! WinSignals mobile platform makes life easier for all of its users, who manage their money on the stock market. We are statistically more successful than 98% of traders and on the top of that, we also save the most valuable thing - your time!
In any case, download the mobile application to your phone as well as instructions on how to use it! 
Download for free an application for receiving WinSignals information service based on OS of your mobile phone!
WinSignals - trading signals
right into your mobile phone!
Receiving of trading signals is simple! Our clients use free mobile app for iOS or Android and they have easy access to WinSignals information service anywhere in the world!
You will get the WinSignal message in a few miliseconds anywhere in the world. In the app you can save and store, edit or sort all of the messages. It is really smart evidence of messages to your WinSignals! You are going to like it!
World premiere & we are the first!
TOP mobile app for receiving and administration of trading signals!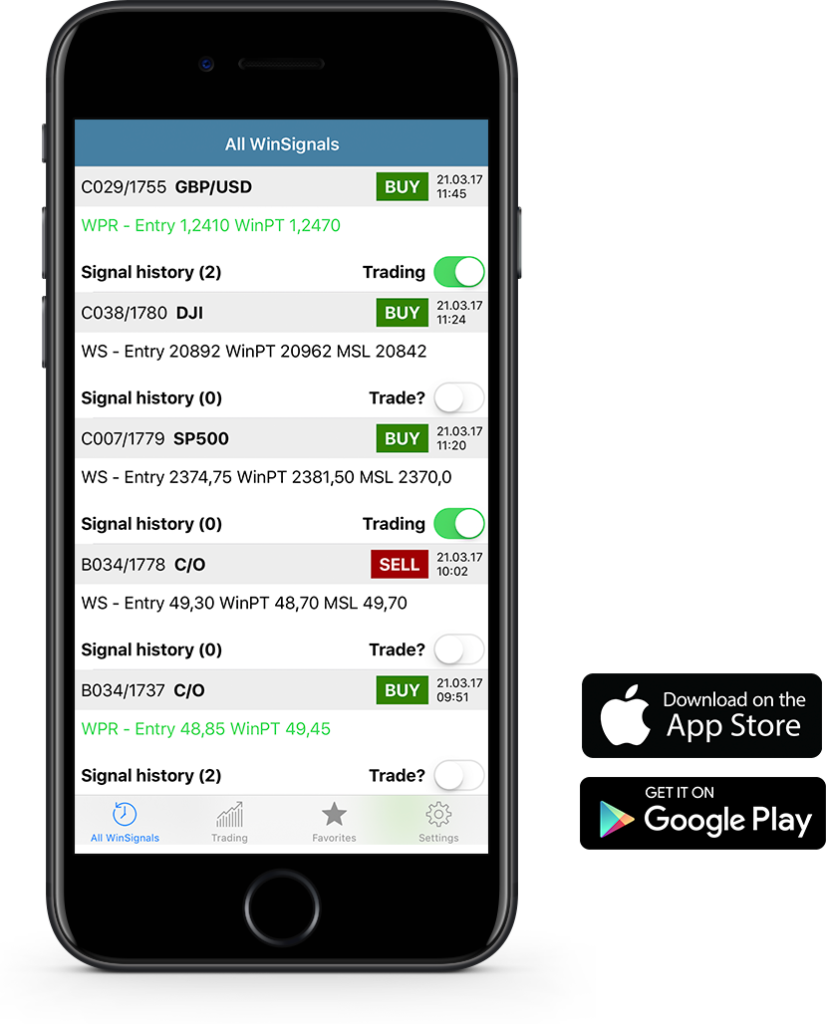 WinSignals turn the speculations on the stock market
into an easy game!
The most successful live trading signals for on-line trading with stock indices, Forex and main commodities are being shared worldwide with success rate of 75 to 90%.
The signals are generated by people, members of our trading team! We do not use robots or automated systems! It is a manual handmade work of our traders based on our analytical process.
After registration, you will get 4 weeks lasting START version for low price!

You will have the unique opportunity to test our WinSignals information service for your profitable trading!

Save time and money in the simplest way!