A few words before you start using
WinSignals with 93% discount!
Trading signals are probability predictions – predictions of where we see the price movement of the selected assets in real approachable time. These predictions are made by people, not automatic machines or forex robots. A team of traders draws their know-how either from our HNB courses and secondly from our market analysis methodology – Situational Online Analysis, as well as from the personal experience of each member of the team. And our team consists of the best traders of my courses in the past few years, simply the best.
Our system works in a way that out of dozens of winsignalists traders it presents the predictions of five best signalists. How do we choose these predictions? The system is our know-how, but I guarantee that in the game there are always only those who are in the best mental form and show readiness. That is why we achieve long-term and stable results that are unavailable to 98% of market participants.
Our system is honest and transparent! We continuously publish our signals. Our clients have their history in their mobile app. We cannot take the published prediction back nor can't we hide it anywhere. Then we regularly evaluate and publish our results. We have no option to retro-change them, because it is easily controllable by stock data. We are honest and transparent and we build on it. And on these principles we keep building WinSignals service for ourselves and for our clients.
Money and position management via WinSignals generates 75-90% profitable situations and only a small number of signals needs to be monitored by our users. The system saves time, money, and creates opportunities. On the other hand, we do not claim that it is simple. It is necessary to know the fundamentals of stock exchange operations, trading and the principles of money management and open positions on the stock market – risk management.
Our WinSignals and online stock trading create the prerequisite for the simplest business with money that can be thought of. However, it is necessary to understand the circumstances of trading and to try out everything at first. Therefore, there is a 4-week TRIAL available at just 7% of the regular price. Consequently, we also encourage clients to have professional approach to money management while using WinSignals information service. The individual risk, expectations and realistic assumptions and abilities of each user are different. Therefore, the results will be different as well. However, there is a certainty that with WinSignals you will make your life easier, you will gain time and system. Try WinSignals and you will not leave us!
Warning: We really do recommend you to go through the fundamentals of trading CFDs and Forex instruments, operating the trading platform and managing trading positions. This service is for qualified users! It is no "luck insurance". Just read everything, download all the documents and tutorials, and especially order WinSignals trial. This can only be done once! We keep our fingers crossed, let's go!
Jirka Mazur & Jirka Gajdošík and WinSignals team.
ORDER WINSIGNALS START SERVICE!
YOU WILL GET 4 WEEKS FOR 7% OF REGULAR PRICE!
Save your time and make your life simple!
We look for profitable opportunities instead of you!
5 ESSENTIAL REASONS, WHY YOU SHOULD ORDER WINSIGNALS:
1

We watch markets instead of you and we send you notifications about profitable situations right into your mobile phone!

2

We send you trading signals about markets with the most liquid assets and prediction success rate of 75-90%!

3

Only with us, you can use the most recent mobile app for iPhone or Android and have all the signals under control!

4

Only with us, you will save time, make your life simple and gain peace of mind and stability in trading!

5

For five years already, we have been statistically more successful than 98% of other participants on the stock market – this is achievable only with us!
Do you want to increase your account by 2-6% in a month,
not depending on which broker you use?
If you already know, what you want,
click right on the ordering button:
» START - trial version for 1 month, it can be ordered only once for EUR 3.99.
1

Order a WinSignals service and activate it immediately after your payment!

2

Keep yourself on transparent results!

3

If you need more information about the WinSignals information service, we invite you to read the following lines:
WinSignals information service:
WinSignals are stock price signals for short-term price movements of selected assets with a long-term success rate of 75-90% that you can use to manage your stock market investments. They are short-term probability predictions. Their form reflects a certain investment potential that adds profitable and useful value to these predictions.
WinSignal is a notification of a potentially interesting situation for a possible price market impulse. In the long run, up to 95% of profitable trading stock positions can be traded based on WinSignals. WinSignals (WS) also consists of an optional Win Profit Report (WPR) service. The WS and WPR services in the form of mobile alerts save your time, money and provide interesting profit opportunities for your business on the stock market.
Stock predictions and market signals are made by WinTraders, independent traders, stock analysts and other online trading specialists. The quality of WinSignals is being monitored on a continuous basis and the signal providers are evaluated according to results achieved by them. You can use WinSignals from WinTraders with the highest rating for your professional speculations on the stock market and for the long-term profitable management of your investments.
In order to identify business predictions, we prefer joining the CFD stock and Forex Goldstarway, where it is easy to realise effective and reliable trades with stock deals, indices, the most liquid commodities and currency pairs. However, you can effectively use WinSignals for your stock market speculations within any trading system, where you can trade online via the Internet.
Ordering WinSignals from this web site:
If everything is clear, click on the ordering button below.
 Order WinSignals service  by filling your data into the ordering form. Accept the Terms and Conditions, subscribe the WinSignals and pay by your chosen payment method.
Within some minutes after payment, you will receive a confirmation email with your Login data, and from that time on, you will be able to log into the mobile app and you will be able to receive all the current WinSignals signals. Please check your email inbox as well as your spam or bulk mailbox.
Download the WinSignals App
Using the AppStore mobile app (for iOS, on Apple devices) or GooglePlay (for Android systems), download the WinSignals mobile app (can be found easily, using the search) and install it on your mobile phone. Don't forget to enable a sound alert on your mobile phone to alert you when a new signal arrives.
For login please enter the Name (your email address) and Password, which you have received from us via confirmation email. On the login screen, press the button
An application with our successful Winsignals will open immediately.
By ordering WinSignals service you will get:
WS Mobile Alerts

Notifications on potential profitable development of prices on the stock market, trading signals with success rate of 80-90%

WPR Mobile Alerts

Notifications on WinSignals and easy trading management, Win Profit Report (Achievemnet of Profit Target value) is included in the price.

After service payment, you will get all necessary information by email

- More information about WinSignals product and mainly, how to use it in practice.
- Manual, how to download and use mobile app

We will send you log in data to mobile app.

We will provide you necessary information and user service.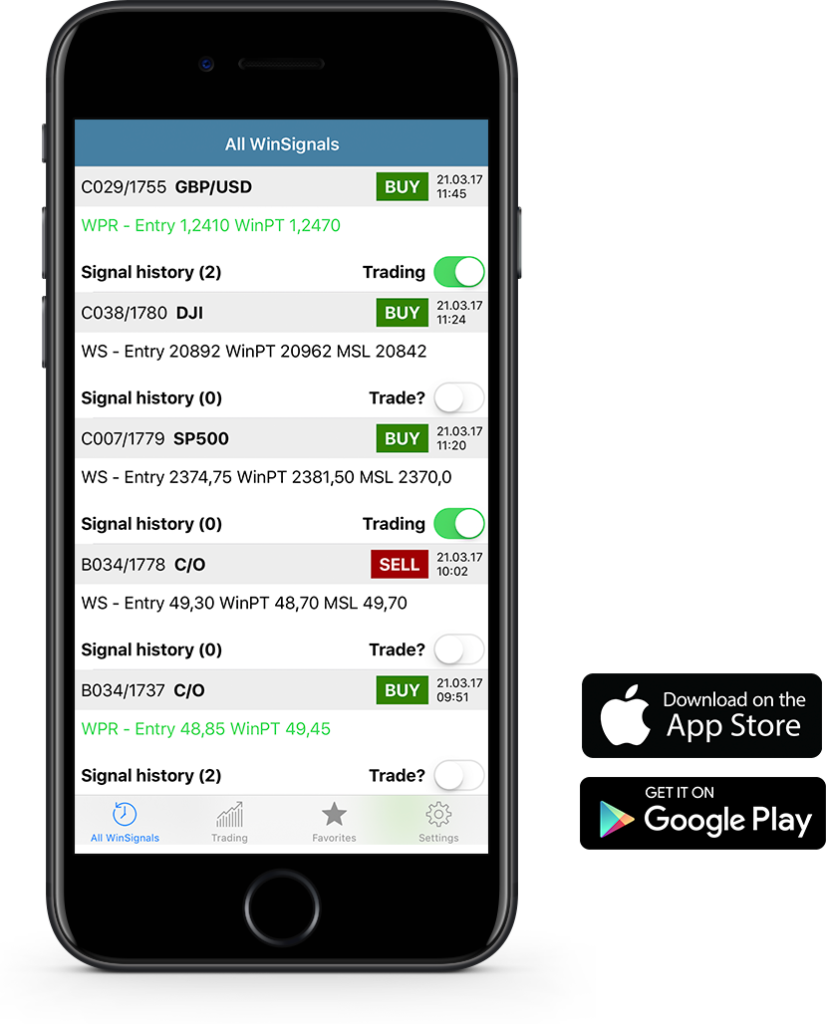 And with WinSignals, you will also get the following benefits:
We send only specific WinSignals with Rating of the highest reliability into mobile application! Alerts on WinSignals messages can be received anywhere worldwide.

Save time and money, do not sit in front of PC, trade easily.

Trade WinSignals anywhere right from your PC or mobile phone (Android or iOS).

Simple, effective, profitable!
You can easily download and install the app by typing "WinSignals" into the search form in the AppStore or Google Play.
Make your life simple on the stock market and save time with us!
Before filling order form read General Terms, by filling out order you confirm, that you have read these terms and you accept them.
If everything is clear,
click on the ordering button:
» START - trial version for 1 month, it can be ordered only once for EUR 3.99.
If you need to know more about,
what our clients say about our product, look below:
What did the workshop and VIP meeting in Prague participants said about WinSignals:
Ladislav Vávra - from 6:24
"I subscribe to WinSignals, I am satisfied, because WinSignals give me exactly that, what I consider as very important. It is time and it is freedom. Thanks to mobile alert, the WinSignals appears and I have the chance to look, how is the current price developing and if I agree with that price or signal, I immediately trade it.
Thanks to WinSignals, I gained freedom. I do not have to sit hours at my computer and watch the price development. Thanks to WinSignals, I will actually see when and how I am going to trade, how many lots will I trade and how much money it will bring me."
You can complete the order right here:
» START - trial version for 1 month, it can be ordered only once for EUR 3.99.