Ordering WinSignals service
Find out everything regarding ordering WinSignals service on this page!
The WinSignals 3.0 project is doing very well. It celebrated three years in this new version with mobile app since its inception in January 2019. As a perfect celebration, signals achieved incredible results in February and March 2019 - 100% signals successfully reached the predicted value of profit target wihin 15 days using the Set & Forget method. It can't get any better.
Notice: Join us now! You have a unique opportunity to try WinSignals for 4 weeks for only 7% of the usual price, and then fix your current price permanently simply by using a smart order with the current price.
My tip: Start with the START WINSIGNALS series and proceed to SMART ORDER with a quarterly payment. In the long run, this is the best option.
Order WinSignals for the best price!
SAVE TIME AND MAKE YOUR LIFE EASIER!
WE LOOK FOR PROFITABLE MARKET SITUATIONS FOR YOU!
5 ESSENTIAL REASONS, WHY YOU SHOULD ORDER WINSIGNALS:
1

We watch markets instead of you and we send you notifications about profitable situations right into your mobile phone!

2

We send you trading signals about markets with the most liquid assets and prediction success rate of 70-90%!

3

Only with us, you can use the most recent mobile app for iPhone or Android and have all the signals under control!

4

Only with us, you will save time, make your life simple and gain peace of mind and stability in trading!

5

For more than three years now, we have been statistically more successful than 98% of other participants on the stock market – this is achievable only with us!
Do you want to multiply your account by 2-6% in a month,
not depending on your broker?
Choose the best order option for you:
A standard WinSignals service order requires a single payment for a selected period, using a selected method – card or wire transfer. This type of order is less convenient, but it caters to the needs of those of you, who prefer not to use the more advantageous smart order, which employs repeated automatic payments using a card. 
The smart WinSignals service requires repeated automatic card payments (RACP) without the need for further orders or keeping track of payments and subscription expiry dates. The smart order saves time and money for you as well as for us! That is why here you can get the best prices for the least amount of worries!
Stock market signal subscription selection. For both types of payments you can select periods of 1, 3, 6 or 12 months!
The prices below are without VAT. The final price thus needs to include the VAT, which can be a deductible item for VAT payers for IT services.
If you already know, what you want,
click right on the ordering button:
1 month order:
1 month 62 EUR
3 month order:
3 month 169 EUR
Amount per month is 56 EUR
6 month order:
6 month 293 EUR
Amount per month is 49 EUR
12 month order:
12 month 506 EUR
Amount per month is 42 EUR
Recurring credit card payment is more beneficial!
1 month order:
1 month 54 EUR
3 month order:
3 month 149 EUR
Amount per month is 50 EUR
6 month order:
6 month 229 EUR
Amount per month is 38 EUR
12 month order:
12 month 389 EUR
Amount per month is 32 EUR
If you order for the first time and you want try-out WinSignals, here you can find this option:
Order a WinSignals service and we will activate it as soon as possible
within a few minutes after we receive your payment!
WinSignals information service:
If you need more information about WinSignals
We invite you to read the following lines!
WinSignals are stock price signals for short-term price movements of selected assets with a long-term success rate of 80-90% that you can use to manage your stock market investments. They are short-term probability predictions. Their form reflects a certain investment potential that adds profitable and useful value to these predictions.
WinSignal is a notification of a potentially interesting situation for a possible price market impulse. In the long run, up to 95% of profitable trading stock positions can be traded based on WinSignals. WinSignals (WS) also consists of an optional Win Easy Management (WEM) service. The WS and WEM services in the form of mobile alerts save your time, money and provide interesting profit opportunities for your business on the stock market.
Stock predictions and market signals are made by WinTraders, independent traders, stock analysts and other online trading specialists. The quality of WinSignals is being monitored on a continuous basis and the signal providers are evaluated according to results achieved by them. You can use WinSignals from WinTraders with the highest rating for your professional speculations on the stock market and for the long-term profitable management of your investments.
In order to identify business predictions, we prefer joining the CFD stock and Forex Goldstarway, where it is easy to realise effective and reliable trades with stock deals, indices, the most liquid commodities and currency pairs. However, you can effectively use WinSignals for your stock market speculations within any trading system, where you can trade online via the Internet.
By ordering WinSignals service you will get:
After your payment is received you will get an email with information about WinSignals product and mainly, how to use it in practice. Manual, how to download and use mobile app.
We will send you log in data to mobile app.

Winsignals can be traded anywhere in the world) directly from your PC or mobile phone running on Android or iOS.

WS Mobile Alerts

Notifications on potential profitable development of prices on the stock market, trading signals with success rate of 80-90%

WEM Mobile Alerts

Alerts for easy management of your trades. WinEasy Management alerts are included in the price for WinSignals service.

We will provide you with necessary information and user service.

Time for yourself

Make your life simple on the stock market and save time with us!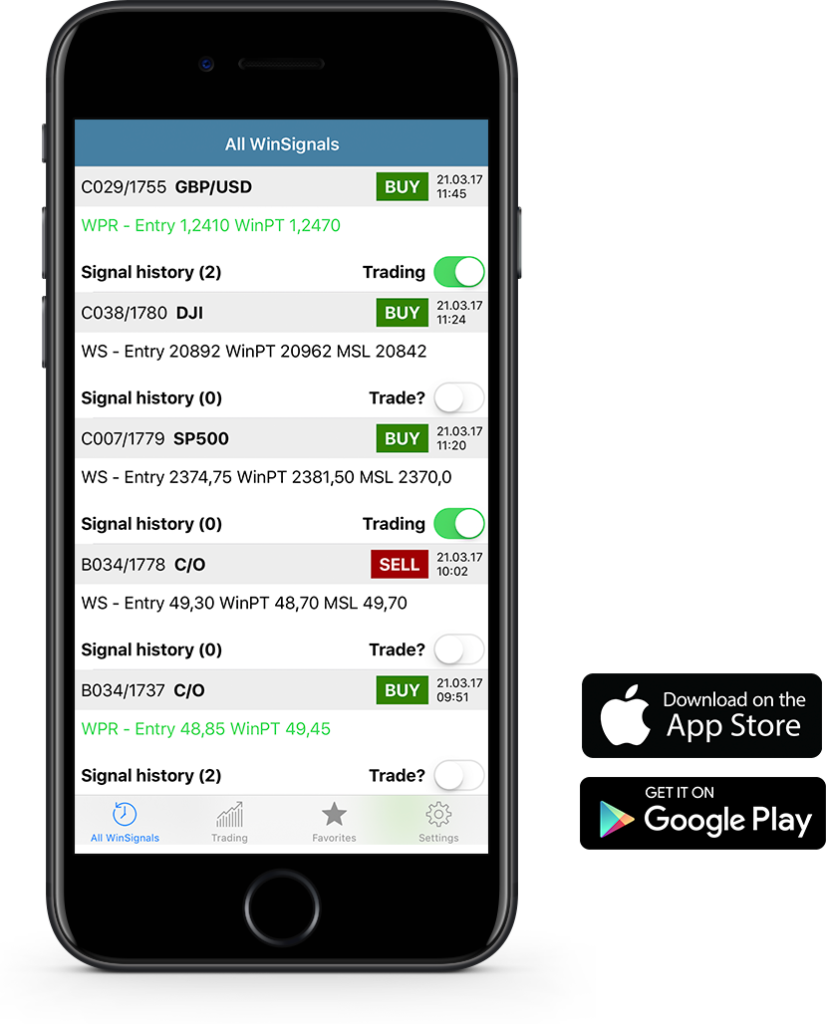 You can easily download and install the app by typing "WinSignals" into the search form in the AppStore or Google Play.
Please read the General Terms and Conditions before completing your order. You confirm that you are familiar with them and that you respect them by submitting your order.
If you already know, what you want,
click right on the ordering button:
If you order for the first time and you want try-out WinSignals, here you can find this option: